The Ultimate Palm Springs Mod Experience
Palm Springs modernist style, perfect for individuals and families alike
The Twist is a hotel alternative featuring 17 vacation rentals appointed in true Palm Springs modernism. Nestled in the quiet beauty of Old Las Palmas in the Palm Springs Uptown Design District with shopping, dining, entertainment and art galleries right outside our door and within walking distance to downtown, The Twist is perfect for individuals, couples, families, groups and special events.
The seventeen rooms range from studios to a 2-bedroom suite, all with a kitchen and either a patio or a balcony, fully furnished with colorful modern designs by local designers H3K.
Guests have access to all amenities within the unit as well as free parking, Internet/high speed Wi-Fi, beach cruisers, a putting green, grill, swimming pool and spa, laundry facilities, and elevator. The mezzanine level on the second floor features a fire pit surrounded with comfortable couches with amazing mountain view – the perfect spot for a glass of wine and conversation before dinner.
The quiet and relaxing pool is complemented by lush tall palm trees, soothing sounds from a water fountain and breathtaking views of the mountains. The pool stays heated to 85 degrees in winter and offers a refreshing break from the heat in summer.
The Twist staff are Palm Springs locals, friendly and knowledgeable to direct guests to the best of the Coachella Valley.
History : The Twist is classic Palm Springs with connections to both old Hollywood and the Mob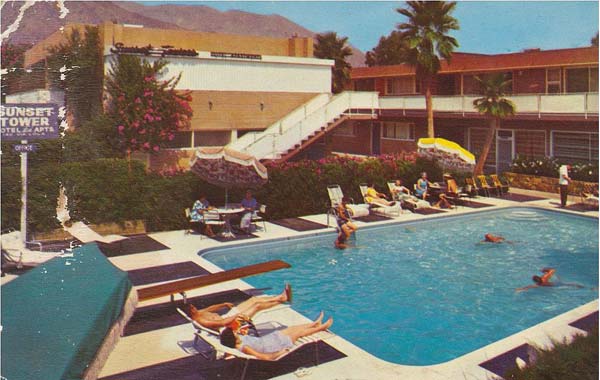 Twist Palm Springs in 1951
Originally called Sunset Tower Apartment Hotel, built in two phases in 1949 and 1952. In front of Sunset Tower (now The Twist) was Don the Beachcomber at 1101 N Palm Canyon Drive on the corner of Via Lola.
The basement of our building still contains a crawl-hole-sized space just below street level, now closed off, with metal rebar. Rumor has it that it was an escape route for gamblers in a hurry to make an exit, which led to the El Mirador hotel across the street.
From Palm Springs Confidential, Playground of the Stars!
by author Howard Johns:
"It was at Don the Beachcomber that gossip columnist Rona Barrett saw Joan Collins' fiancé, Warren Beatty, make a drunken pass at Robert Wagner's wife, Natalie Wood, on a triple date with the Kirk Douglases and Tony Curtis in 1961.
Sunset Tower Apartment Hotel, at 140 Via Lola, was a bachelor's paradise for many celebrity headline grabbers who owned or leased penthouses there in 1956. Among them were Sacramento political lobbyist Arthur Samish, who received millions of dollars in bribes from the liquor and trucking industries. He moved here after being paroled from federal prison where he served two years for tax evasion. El Mirador hotel owner and high-stakes gambler Ray Ryan, who rubbed Chicago mob bosses the wrong way when he reportedly cheated on a card game, played five-stud poker in his executive suit with oil producer George Cameron Jr. Zeppo Marx, the fourth Marx Brother, who starred with his exuberant siblings in five films, moved into an upstairs apartment after divorcing Marion Benda."
Many Hollywood celebrities frequented and lived on this property. Besides Zeppo Marx, George Beebee, Palm Springs mayor, as well as Ray Ryan, the owner of the El Mirador hotel lived here.